It is refreshing that Otumfuo Osei Tutu II is being celebrated while he is alive.
The Executive Chairman of Jonah Capital, Sir Sam Jonah, who said this, explained, "For far too long, we tend to celebrate the dead and all the good things that the person did tend to be forgotten."
Speaking when he received the Otumfuo Commemorative Gold Coin on Thursday, February 17, 2022, Sir Sam said he was thrilled with the initiative to honour Otumfuo with a commemorative coin.
Achievements
Stressing that the Asantehene had achieved so much, the Jonah Capital boss added that "the fact that the celebration is taking place whilst he is alive says a lot about the importance of this enterprise."
"So for me, the fact that Otumfuo is here to see that he is being appreciated for the remarkable contributions he has made to the peace and stability of this country and in fact in Africa is very important," Sir Sam stated.
Peace crucial
Taking a further look at the relevance of peace to national development, Sir Sam said there was never a time that peace had attained even greater prominence than it is now.
"There is too much stress and too much tension here. The country cannot move forward under the circumstances," he noted.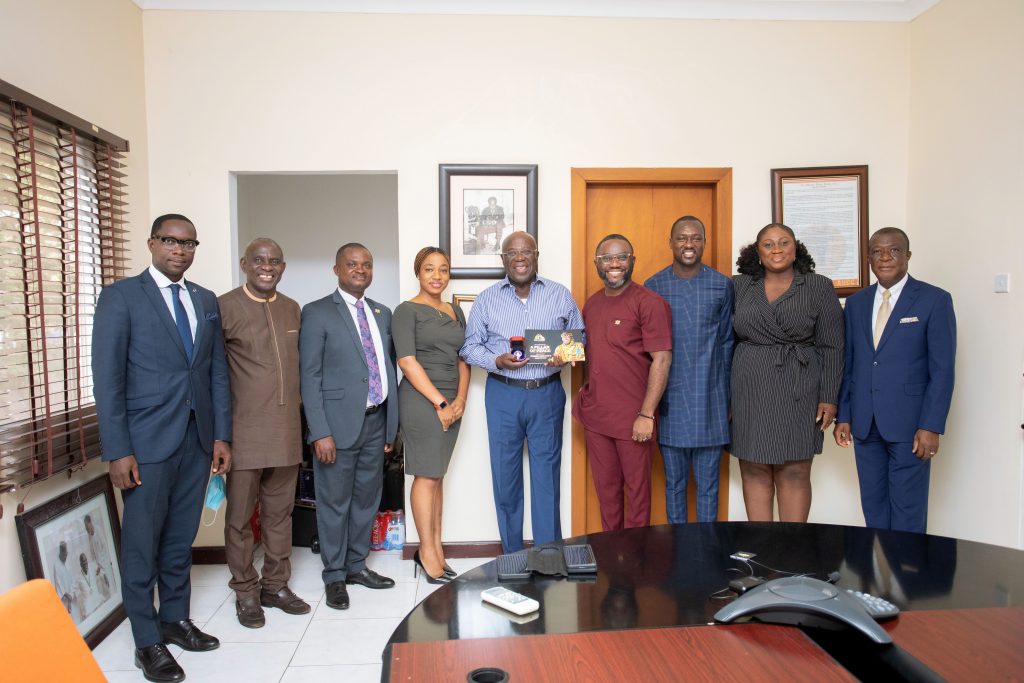 From right, Paul Asimenu, the Legal Advisor of the Gold Coast Refinery; Mrs Yvonne Antonio, the Head of Retail Banking of the Access Bank; Mr Richard Adjei Mensah Ofori Atta; Mr Jesse Agyepong, the General Manager, E ON 3 Group; Sir Sam Jonah; Margmay Mefful, Strategy- Retail Banking Head, Access Bank; Mr Seth Sorgah, the Head of Sales and Distribution, Coronation Insurance;  Mr Abraham Dwuma Odoom, the Country Manager, Gold Coast Refinery, and Mr Festus Ofosu Yeboah, the Business Head, Adjinganor branch of Access Bank
Therefore, he stressed the need for the message to be sent out there to everybody that whatever the differences of the people, "we cannot do it without peace and stability".
Sir Sam added: "Words have consequences so we should tone down our language, and we should tone down the posture."
He thanked the organisers and sponsors of the gold coin project for the honour done him.